What does "making art" mean?
I will try to give a very personal answer:
Making art means thinking in colours, following the brush and transforming myself in dialogue with the painting.
Mind and heart and hands are in alignment and create something new and unique… a picture that wants to tell me its own story, that helps me to understand and that will later be able to pass on some of this information to the beholder.
But sometimes making art for me also means consciously baking a cake, or telling a story, or furnishing a house, or writing. I don't think I could do any differently: art makes me.
Who is Johanna Ringe?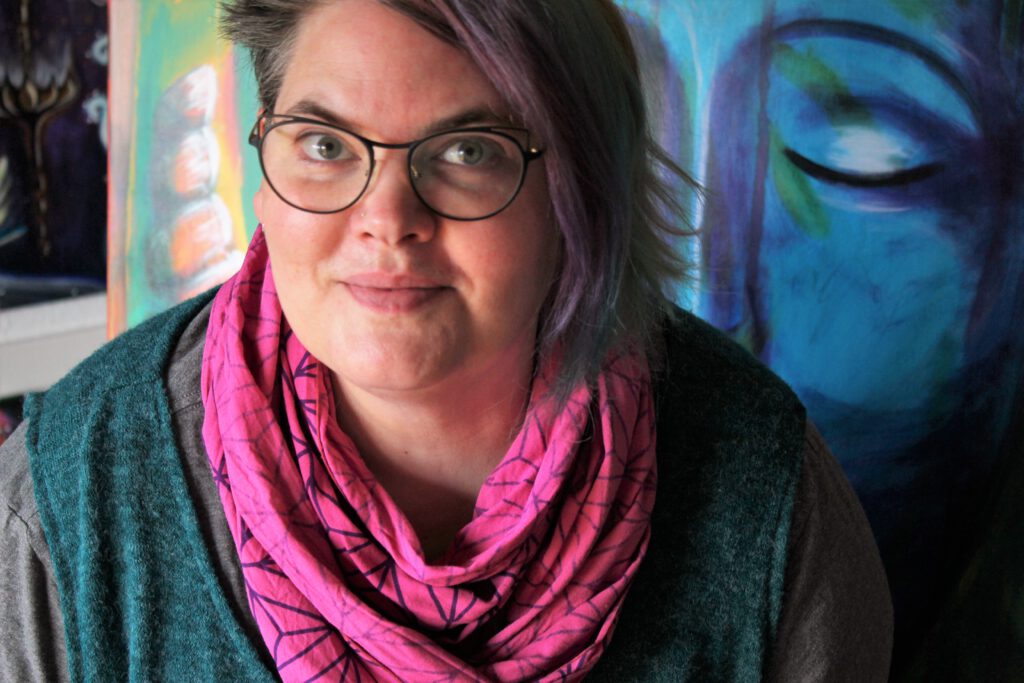 I love to support and encourage the misfits, the too-complicated, too-sensitive humans. I want you to really feel that you do belong here and to see your worth and your contribution. I would love you to feel good in your own skin and to be kind to yourselves.
I want all you highly intelligent and multiply gifted, colourful human beings to enjoy being different in this beautiful world!
Born in 1972 to cosmopolitan parents in Darmstadt, heart of the Jugendstil in Germany, I painted since being able to hold a brush. I learned to use acrylics and any other kind of paint or pen on different surfaces early in life and did etching, pottery, watercolour, sewing, theatre and many more with family members and other teachers, while still in primary school. Reading and writing were as important in my formation as the frequent visits to concerts and exhibitions of all kinds.
After growing up partly in Buenos Aires, Argentina, I came back to go to University in Germany. Studies of Art history, German and computational linguistics were followed by a fairy tale teller training. 12 years later I became a trained coach for the highly gifted and highly sensitive persons.
My two daughters are grown and flown, currently I live and work near Mainz with my husband and two cats.
A storyteller and coach for highly gifted multipotentials as well as an artist and writer, I spend my days employing all my skills whenever needed and/ or possible. When I did my coaching training, everything I ever learned fell into place, all the different talents found their common purpose: to encourage and support the misfits on their way to a satisfying life.
We are all human beings, with more similarities than differences. In the world's fairytales I found the great questions and the great answers – always the same, east, west, north, and south, wherever I looked. I am convinced that there are many layers of wisdom in every story and that everyone hears what they need the most.
What I have learned in my past as a storyteller and a mother is to trust the magic, because with Creativity you can defeat any Monster!
Therefore employing Intentional Creativity® as a method is the sensible thing to do: we all have our monsters, and I know that we all have it in us to defeat them or convert them into allies!
In 2019 I became a certified Red Thread Guide, and in 2020 joined the Color of Woman training, certifying as Intentional Creativity Teacher.
As an active part of Musea – Center for Intentional Creativity®, I engage in spreading the method to ease the loneliness of the misfits – and give them back the joy of creating.
Artist statement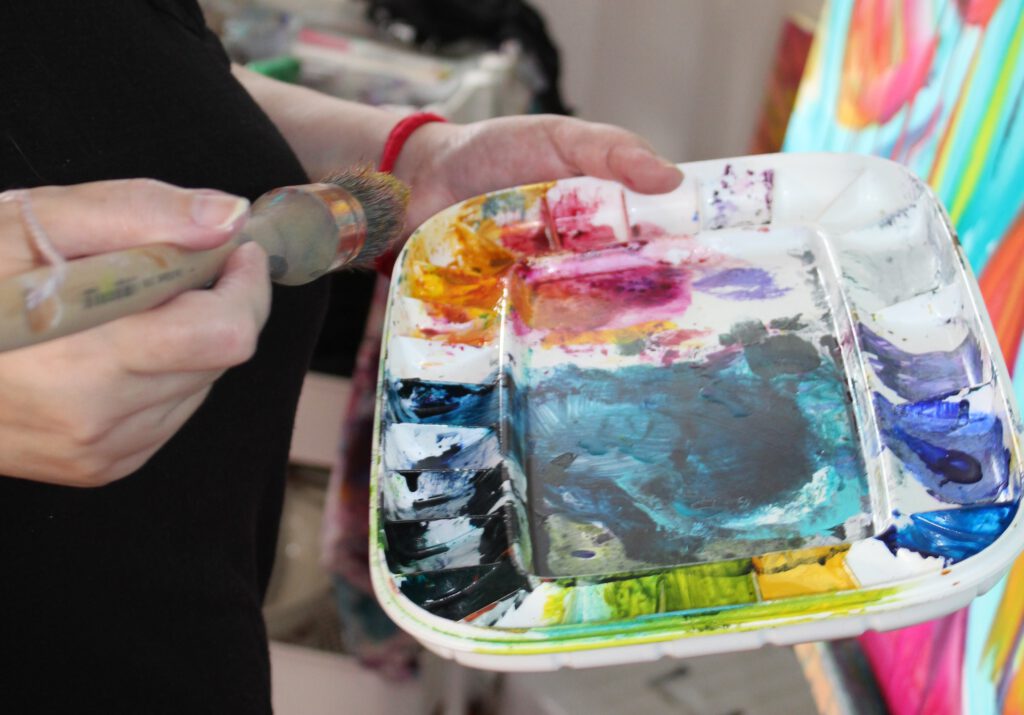 Everything can be art! Every part of my life is magical, bold and grounded yet otherworldly – from my hair to my acrylic paintings, from my outfits to my drawings – everything is infused by my sense of quirk and changes according to my emotional landscape's development.
It is always about the human beings: how do they work, what do they feel and think, what do they need… I am a "humanity researcher" and have been for my whole life.
Trying to figure out myself and others is the red thread which connects everything: being a bright child I never stopped asking questions, and my dear mother never stopped giving answers, directing me to our extensive library when needed. She took me to every exhibition, museum, cathedral, or gallery since before I was born and encouraged me and my brother in every creative endeavour.
Eastern Asian aesthetics, old Egyptian art and the architecture of the great European cathedrals are strong influences, as is the Art Nouveau and the Jugendstil with artists like Mucha, Olbrich and Christiansen. My goal is always to imbue everyday life with beauty, light and a playfulness that is deeply grounded in philanthropy.
Seeing my father building more bookshelves when needed and getting sewn clothes, knitted toys or paints & pens for every birthday let my creativity thrive, even in hard times. I naturally turned and still turn to art in times of trouble, because I do believe that we all carry our answers within; it is just about asking and listening.
Apart of some naturalistic experiments with aquarelle I started early to follow my wild imagination into the world of allegories and symbolism. The fairy tales of the world have delighted and encouraged me all my life, no wonder they make their way into my art. Even if I try to do a sketch a day, looking out of my window, you can be sure to find a little bird clad in hat and shawl, sitting on a branch, drinking tea.
My brain is like the medieval sculptors who introduced pigs and naked buttocks into the solemn cathedrals. I love to laugh; it is relieving and healing. So even if my art may not shout it from the rooftops, it aims at making you smile slowly and gently and with all your being. I want you to see the beauty of this universe, and the beauty of your unique contribution to it.
We are all stories. Stories and storytellers, and it is the same with paintings: even if you may not know what I was working through as I painted it, my art will always tell you something you need to hear. And I am deeply blessed to deliver this morsel of wisdom.